Its pretty rare that I actually get the chance to see a movie in theaters these days, so now that I finally did, here's what I thought of Disney's latest.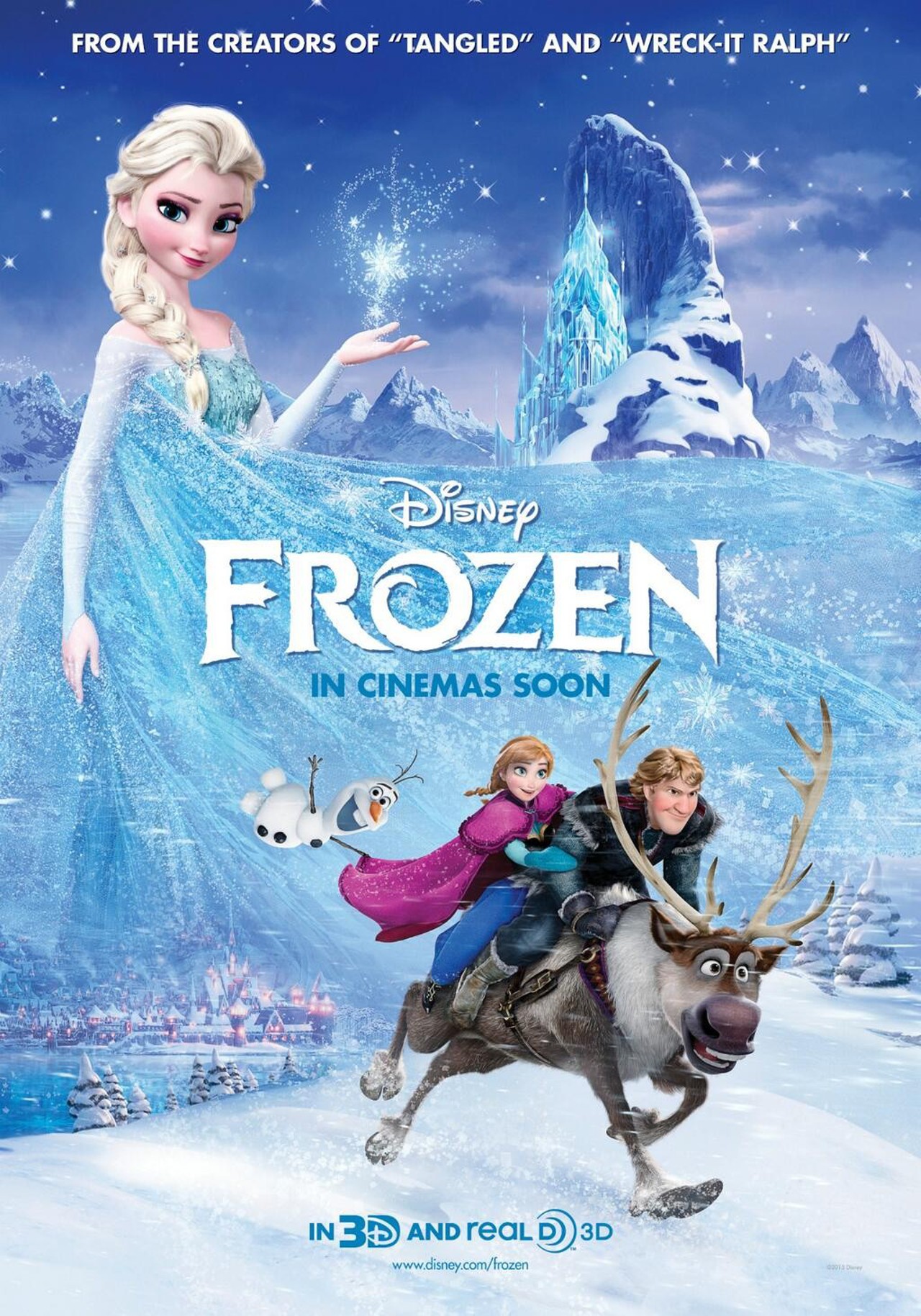 Frozen (PG)
Starring:
Kristen Bell, Idina Menzel, Jonathan Groff, Josh Gad, Santino Fontana, Alan Tudyk
Whats it about:
Princess Anna embarks on a journey to help her sister Elsa, the rightful heir to their kingdom's throne, who possesses the magical power to produce snow/ice.
Going into this movie, I had no idea what the plot was, which was honestly rather refreshing! Its really difficult to describe the plot without giving anything away, because its a lot of fun to just discover it for yourself. Disney definitely knows what they're doing!
That said, there is a LOT of great stuff in this movie, but there was some stuff that bugged me too. But hey, lets start with the good:
This. Movie. Is. BEAUTIFUL. The animation of the characters is great, the snow is very well done, but what absolutely blew me away was the frost powers that Elsa wields. Wow! I didn't see this movie in 3D, but this is one of the only movies I've ever actually wished I did.
At one point in the movie, Elsa creates something very cool out of ice, and visually it gave me chills. Pixar never disappoints when it comes to looks, that's for sure.
Its no secret that Tangled is my absolute favorite Disney movie, in a large way due to the characters, and how they are a great mix of the classic prince/princess formula, and modern society. That is definitely visible in this movie as well. It seems that Disney princesses are taking a turn to become "like totally" teen girls, which is just as fun in Frozen as it was in Tangled. I wasn't disappointed by a single character. In typical Disney fashion, there's two hilarious non-human characters, Sven the reindeer, and Olaf the snowman. Honestly, when I saw the trailers I thought Olaf was going to be a completely idiotic character, I thought all his little quips were just terrible. But in the full movie, he had some of the best lines! He's pretty obviously just there for the kids, as he constantly points out major plot points in somewhat of an "In case you missed it" style. Its annoying, but hey, he serves his purpose.
Again, not going to spoil anything, but I loved the ending too! Throughout the final climax, I was sighing internally because I figured I knew exactly what was going to happen. Well I was wrong, and pleasantly surprised! They really push the sisterhood thing way more than the "true love" which is a refreshing change!
Okay I've covered all my favorite parts, but there were some things that still bugged me, and prevented me from truly loving this movie. For starters, the songs. Now don't get me wrong, I know Disney movies are no stranger to music, and actually I thought the songs were fantastic in Tangled! What I did feel about this movie, however, is that there were too many songs, and some of them felt really unnecessary. Half of them were just dialogue conversations that had music, and it just felt like they didn't need to be sung. I really liked some of the songs, especially the opening number, but overall I feel like if they toned it down by maybe 3 or 4 songs, it would have been a little better.
I also wasn't a big fan of Elsa's singing voice, but that's just personal preference, so ignore that if you want to.
Verdict:
7.5 out of 10. Definitely go see it! I like that it wasn't over-hyped like most Disney movies, and was pleasantly surprised by how much I liked the characters.
Remember to keep an eye out for some Disney cameos!
*P.S.: There is an extra scene after the credits*
BONUS ROUND: The short before the movie
I always love the short movies they play before each Disney/Pixar film. But sadly I gotta give this one a low grade. It's a fun homage to classic "steamboat willie"-era Disney cartoons, but compared to some of their other more recent shorts, like "Paperman" (shown before "Wreck-It Ralph"), or even "La Luna" (shown before "Brave") were much more enjoyable. They do have a small Marvel cameo that made me laugh pretty hard though, so keep an eye out!
6 out of 10
for the short. Good, not great.